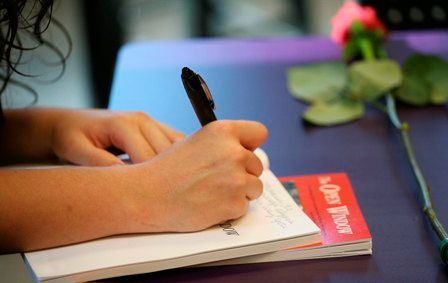 Young Writers Find Voices in Writing Our Stories
To the scores of many fine new books offered by publishers across this country every fall, the Alabama Writers' Forum has added its own tradition of new releases. Young voices from Writing Our Stories are debuted in anthologies published as the culmination of this thriving juvenile justice and literary arts partnership.
The Alabama Writers' Forum and the Department of Youth Services have collaborated on the Writing Our Stories curriculum guide, entitled The Language of Objects: A Creative Writing Handbook. It will be published with the help of a generous grant from the National Endowment for the Arts. The guide is a resource for both new and experienced teachers of creative writing in classroom and community settings.
Writing Our Stories takes place through a cooperative arrangement between the Alabama Writers' Forum and the Alabama Department of Youth Services (DYS). Funding for the project, which includes nine months of instruction, as well as in-service training and anthology editing, is provided by DYS and the Alabama State Council on the Arts (ASCA).