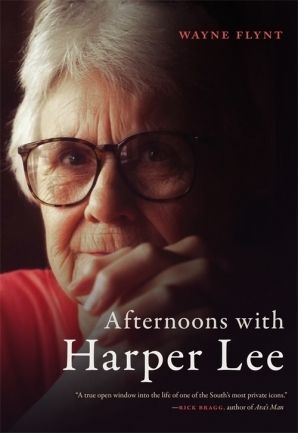 Afternoons with Harper Lee
By Wayne Flynt
NewSouth/University of Georgia Press, 2022
Hardcover: $24.95
Genre: Biography/Autobiography
Reviewed by Jim Buford
Thanks to Auburn Villager for permission to reprint this review.
I have long been an admirer of Auburn University historian Wayne Flynt's work, and with his incisive biography of Nelle Harper Lee, he has outdone himself. His prose is described by Patti Callahan Henry as flowing "gracefully as the rivers of Alabama, clear and lyrical" and he is called "the great Talmudic scholar of Alabama" by Diane McWhorter. I could not agree more with the assessments of these noted writers.
My own connection with Nelle Harper Lee began on a hot afternoon in the early fall of 1963 at Ft. Bragg, North Carolina. I was a junior First Lieutenant serving as officer of the guard on main post. My role was to make sure the cannon was fired at exactly 5:00 p.m. followed by a ceremonial lowering of the flag. Earlier that afternoon when I came on duty there wasn't much for me to do so I went into the tent that served as our guardhouse and began reading my copy of To Kill a Mockingbird, a novel by an Alabama writer which was beginning to attract critical attention. This was pleasing to me, because most of the news from Alabama was about violent resistance to the civil rights movement in Birmingham and the bombing of the Sixteenth Street Baptist Church, killing four African-American Girls, and earlier when Public Safety Commissioner Bull Connor ordered the use of fire hoses and police dogs on peaceful protestors. I became so engrossed in its content that I lost track of time until one of my sergeants came into the tent and informed me that it was 4:57 p.m., the troops were assembled, and I needed to come outside and get ready to give the order to fire the cannon and run the ceremony. I have often wondered how the then 34-year-old best-selling author processed the violence and mayhem occurring in Birmingham. My best guess is that she was as dismayed as I with what was going on in our home state.
As it turned out I was on to something, but it was years later and mainly through my connection with Wayne that I was able to get a glimpse of what Nelle Harper Lee was all about. His book offers much more than that. Their friendship began when Lee moved back to Monroeville, Alabama, the county seat of Monroe County, from New York after suffering a stroke. Wayne and his wife, Dartie, began visiting her at the assisted living facility that became her home and as he put it, "swapping stories." These stories, among other things, covered the geography, demographics and sociology of Alabama's Black Belt, Lee's family genealogy including her two sisters, Alice and Louise, educational experiences, foreign travel and American Literature.
Divided into 13 chapters, a small sampling of what you will learn is that in the first part of the century a dozen or more African-American men were lynched in Monroe County; that Lee attended Huntingdon College and what she studied at University of Alabama before leaving one semester short of graduation; the name of her favorite author; the medals she was awarded by two American Presidents; the event that took place on what she called the happiest day of her life; the year To Kill a Mockingbird was awarded the Pulitzer Prize and number of weeks it was on The New York Times best-seller list; that her closest childhood friend was Truman Capote, and how they became estranged as adults; the name of the actor who played Atticus Finch in the movie version, why she rented a house in Alexander City, Alabama, to conduct research on a murder case for a novel which was apparently never submitted for publication; and finally, that Mockingbird was not her first novel. Aptly described as part memoir and part biography, this book offers readers a unique and accurate perspective into the life and times of one of America's best-loved writers.
Jim Buford is a management consultant whose published creative work includes essays, short stories, and social history. He is the former Southern Literature columnist for The Montgomery Advertiser. Buford's latest creative work is The House Across the Road, And Other Stories (2010, Mindbridge Press). He is an emeritus member of the Alabama Writers' Forum board.