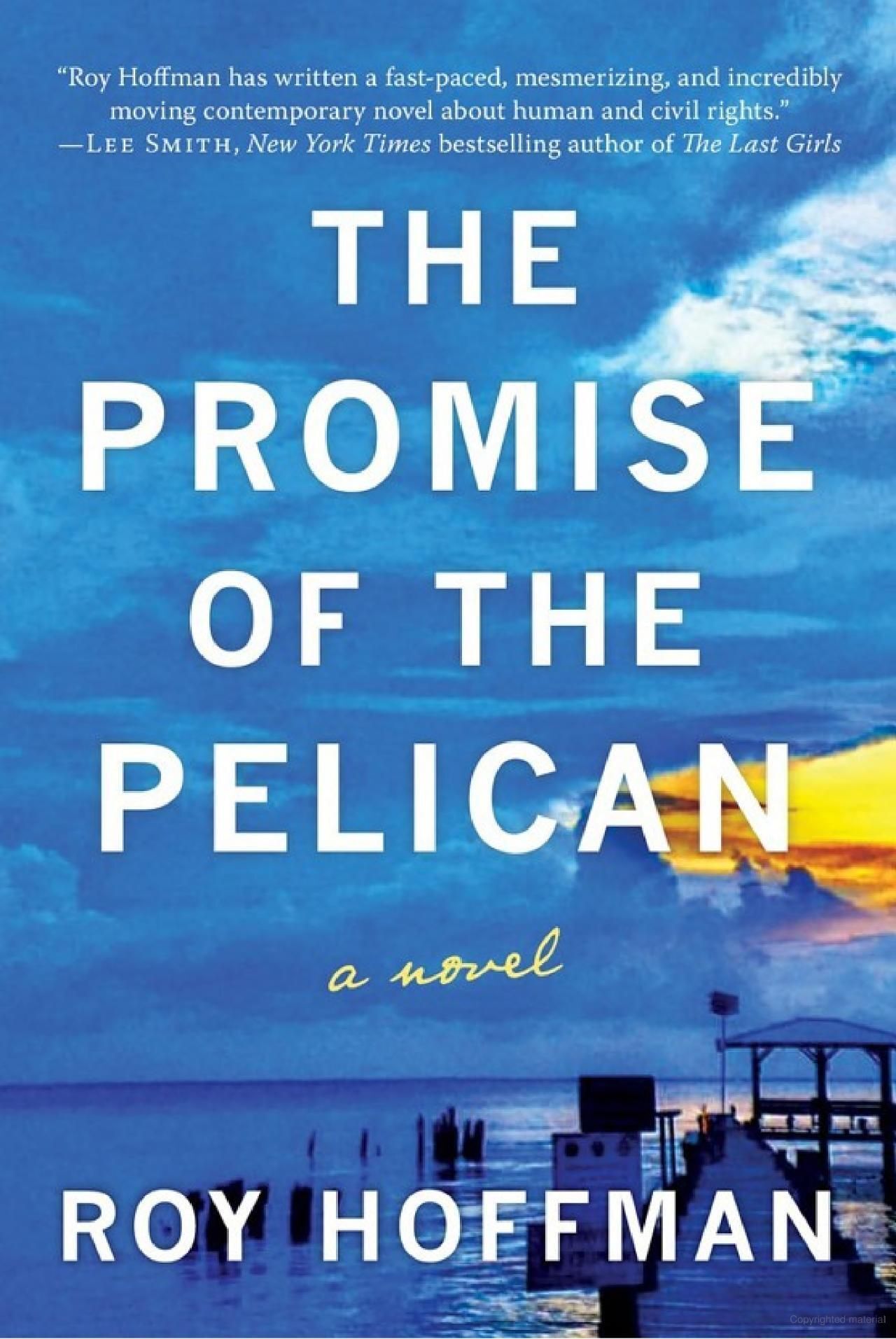 The Promise of the Pelican
By Roy Hoffman
Arcade, 2022
Hardcover: $27.00
Genre: Fiction; Literary Crime Fiction
Review by Laura Platas-Scott
In Roy Hoffman's The Promise of the Pelican, a murder may be central to the story, but this literary crime novel is more about richly diverse characters than the crime itself. It gripped me from beginning to end.
Hank Weinberg is eighty-three years old, a retired criminal defense attorney, who starts his mornings at the Fairhope Fishing Pier, casting his net, chatting with friends, then heading home to care for his young grandson while his lawyer daughter is in rehab. Hoffman draws the reader into Hank's world right away with prose sparse yet eloquent, evoking a strong sense of place as he describes Hank's walk to the fishing pier. "Down the lane where magnolias canopied creole cottages, by the porch where the rocker sat empty…" A native of Mobile and a resident of Fairhope, Hoffman's love of the landscape is obvious in the vivid images he brings to life in his writing.
Hank is burdened by his daughter's alcohol addiction and talks to his deceased wife, Margery, from a bench on the fishing pier, seeking her guidance with their daughter. But as frustrated as Hank is with his daughter, it is not in his nature to abandon her or his grandson, Roger. Hank's empathy for the vulnerable is further demonstrated when Beau Shepherd, a former state legislator, is murdered on the seventeenth hole of the Bay Resort Hotel in Mobile, Alabama, and Julio, an undocumented Honduran immigrant, is accused of the murder. Hank has doubts about Julio's ability to receive a fair trial with rampant anti-immigrant sentiment and reflects that "the suspicion, the wariness, by those who sat in judgment had seeped into the culture." Despite his initial reluctance, he's pulled out of retirement to defend Julio, urged by Lupita, the accused man's sister, who also happens to be his grandson's babysitter.
Hoffman masterfully weaves in Hank's own lingering childhood trauma to show the source of his empathy for the oppressed. Born in Amsterdam, Hank still remembers his idyllic life on a scenic canal with loving parents, a brother, and a sister. At age six he was separated from his family when the Nazis occupied Amsterdam. While the rest of his family was sent to the concentration camps, Hank was one of a few children smuggled out by the Dutch resistance, eventually making his way to adoptive parents in Alabama. That harrowing experience clings to Hank and figures strongly in his upbringing of his only child, Vanessa, who despite an elite education at Vassar followed by law school, makes decisions that threaten to derail her life, including losing custody of her son and her career as a corporate attorney.
In the best fiction, good people make bad decisions. Hoffman illustrates that perfectly with Vanessa and her point-of-view is integral to the story. Though little Roger is the center of her universe, she continues to relapse and is "… locked inside of herself in a strange place getting nowhere." In a particularly harrowing scene, Vanessa reveals that as a child of an immigrant, she has internalized her father's trauma and is an "outcast of her own making." Whether legal or illegal, immigrants are considered aliens, and Vanessa identifies with this "nation of the alienated," having grown up with her father's stories of escaping Amsterdam and his arrival to the United States as a young refugee.
Just as prominent in the story is the plight of Julio, the undocumented immigrant Hank chooses to defend. With heartbreaking detail, we learn of Julio's own trauma growing up in Honduras and his reasons for crossing the border, his distrust of the law and certainty that xenophobia makes his defense impossible.
The pacing is tight and the dramatic moments plentiful in the last half of the novel as Hank's and Vanessa's and Julio's stories intersect, converge, and wrap in a satisfying conclusion. Through it all we see the pelican, a bird that, according to legend, will pierce its breast to draw blood to feed its offspring. The promise of the pelican then is the bird's natural inclination to protect the vulnerable, a lovely element of the story that resonates deeply when Hank remembers a pelican by the canal in Amsterdam and sees one regularly at the Fairhope pier. Hank and the pelican become synonymous as we see Hank care for the vulnerable in his life—his grandson, Roger, his daughter, Vanessa, and Julio, the accused.
I'm always delighted to read a novel that lingers long after the final chapter, and that is exactly what Roy Hoffman's The Promise of the Pelican delivers.  If you're like me and look forward to autumn's cooler temperatures and a cozy reading nook, I highly recommend you place this wonderful book at the top of your TBR pile.
Laura Platas Scott lives in Greenville, South Carolina, and writes fiction and nonfiction inspired by the richly diverse stories of American immigrants.