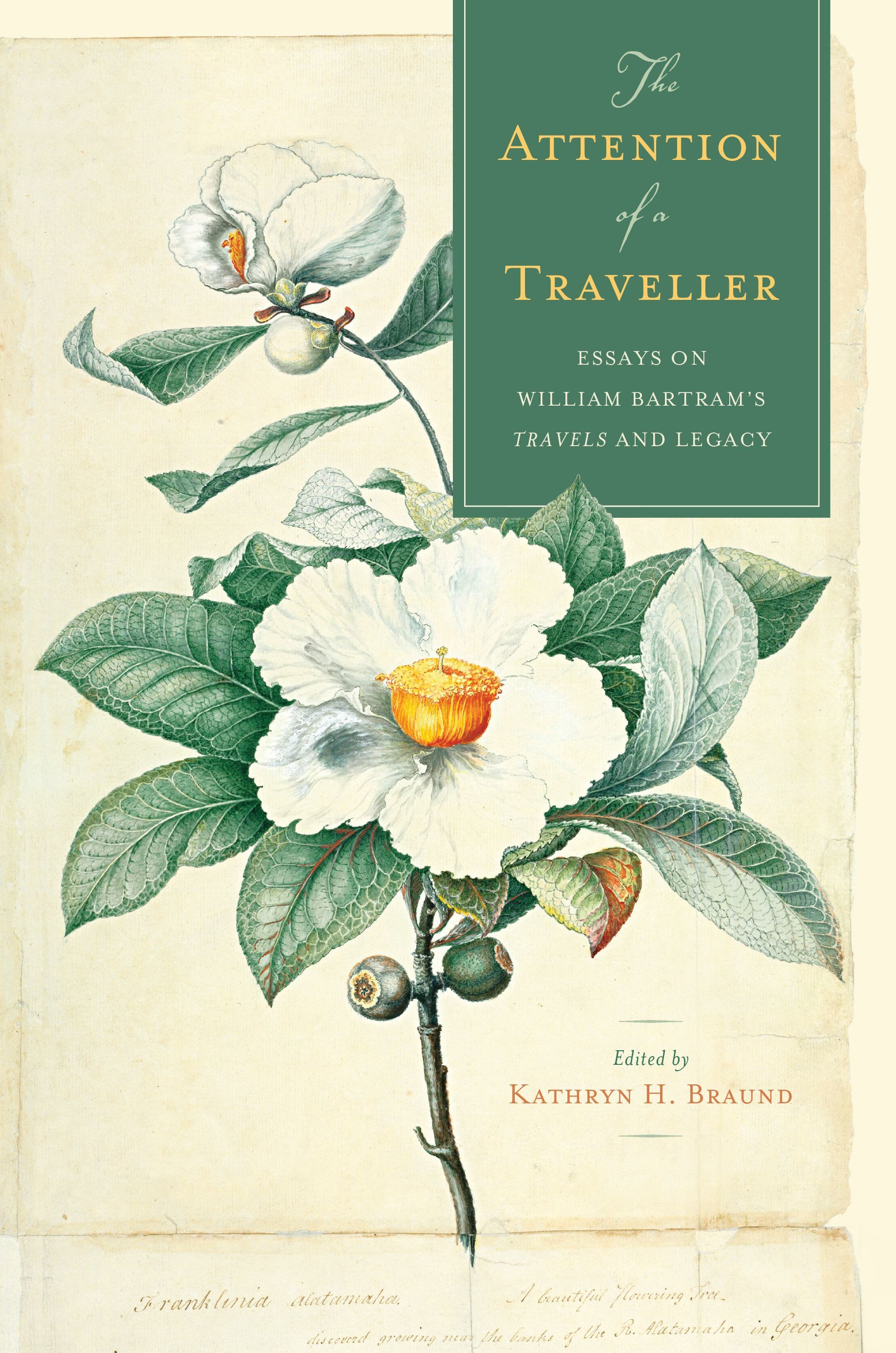 The Attention of a Traveller
Edited by Kathryn H. Braund
University of Alabama Press, 2022
Hardcover: $54.95; Kindle: $52.20
Genre: Nonfiction; Nature Writing; Essays
Review by Jace Rose Malmquist
Each writer follows their fancies, and in this collection, fourteen authors examine John Bartram's life, person, and work, visiting him with unique perspectives and focal points and leaving their time with him with nuanced ideas about who he was, as well as complex moral views on how he directed, recorded, and, sometimes, averted his attention.
I didn't know William Bartram before I met him in The Attention of a Traveller: Essays on William Bartram's "Travels" and Legacy, a diverse collection of essays edited by Kathryn Braund. I quickly understood that he was a noted "botanist, traveler, writer, and artist" in the eighteenth century (Fry 118), exploring the Southeast on foot and by boat with the novel task of "sketching and describing botanical specimens and shipping them to Britain" (McGaughy 8), but as chapter leads to chapter, an increasingly full sketch is drawn from this bare-bones knowledge of the man.
Some of the authors in The Attention of a Traveller are interested in the historical and political contexts of the time, place and space that Bartram existed in; others follow the obvious thrills of his wild encounters with alligators or the more subtle ones, from the comforting shape of the serpentine lines he drew (Athens 148) and his signature technique of "hatching in small patterns" (Fry 122) to the pure joy of seeing one of his lovely drawings for the first time, like Bartram's celestial lily: the Ixea caelestina (119). Taken as a whole, the collection feels cohesive and complete with one voice answering back or running parallel with the one preceding, or another that joined after. The book is like a long and unhurried evening conversation with each person holding a drink; it's about Bartram—his discoveries and storytelling—but it's also about what it means to be a person faced with divisive times and changing environments.
From McGaughy I learned how Bartram seemed to hold "distasteful realities in abeyance to prevent them from marring the pristine natural environment that he sought to encapsulate" (3). The distasteful realities of that time still haunt and hurt us now: the violent intrusion and confiscation of private and sacred land. I learned, also, of the kindness of a stranger, a neighbor who "nursed the botanist back from the brink of death on a diet of pears, peaches, figs, grapes, and plums" (14). From Ross, I read some of Bartram's words verbatim; how, while visiting a savanna, he described his attention as being "quickly drawn off, and wholly engaged in the contemplation of the unlimited, varied, and truly astonishing native wild scenes of landscape and perspective, there exhibited" (157); a fragrant line that is also full of truth. I read, from everyone, about his many discoveries; take, for instance, the evening primrose, a flower I've found growing wild myself in the nearby hills of Ruffner Mountain, and Bartram describes it as "perhaps the most pompous and brilliant herbaceous plant yet known to exist" (McGaughy, 11).
The collection includes many photographs of old drawings—the "Colocasia," where all of the flowers are so big and the blue heron is so small (Ross 185), a set of orchids that appear to be moving (Fry 131), and a single snake—or is it two?—in "Coach Whip Snake from Et Florida" (Athens 143). There is a cross-sectional diagram of a special bluff featuring stunning colors (66-67), a collection of recreated maps that take us on Bartram's different routes, and there are pictures of people who came after Bartram who tried their best to celebrate, protect, and commemorate one of the most interesting journeys someone in the South has taken. The words, of course, are wonderful, but these pictorial additions and other resources are what make the collection extra special.
Daniel Usner added his own swath to the canvas, helping me picture fields and stores with "fifty thousand pounds of indigo" and the Mississippi River, a thing undivided, belonging to the French—"soon to be Spanish" (20) —on one side and the British on the other. Usner explained how the borderlanders were people who chose neutrality over loyalty (30); who tried to use the divide, something that can hurt, to help them instead. I smiled when I read about Indigenous Americans visiting colonists for their "presents" even as I cringed at what was happening to them, at how unfair and heartless and horrible it all was: the awful and strange infantilization of taking everything and then offering, in its place, mere "gifts." I could see immigrants and slaves migrating to Louisiana (22) and felt myself waiting there on the dock for Bartram, for someone good; lingering to hear him say or do something about it.
In the retelling and examination of Bartram's life, these authors who saw and loved the good in him were also (quite commendably) honest about the rest of him. McGaughy observes, in flattering light, how "the botanist remained friendly with partisans on both sides of the schism rendering his world asunder," (2) as the Native Americans had hoped to do, "effectively [dodging] colonial demands for exclusive loyalty" (Usner 25). His thoughts on the possession of others are naturally muddled due to facts presented later: that an honorary plaque in Florida describes Bartram and six slaves doing manual labor in a forest. He owned slaves, and it was likely these slaves that did all, or most, of the work, heavy details that are often omitted. Thomas Hallock notes how "the language wrestles with the difficult legacy of slavery" (197), something we don't really see Bartram face head on in his lifetime.
There are other places where readers may take pause. Some of his most wondrous tales were, at times, fantastically wonderful; you learn more about this when Bartram's alligator stories are put under a magnifying glass by Kathryn Braund. She notes how Bartram did some of the best early reporting on alligators—how they mate and how they bellow and when they do and expressly do not move around in groups. And yet, he claimed that a nest or two contained hundreds of eggs and that the collective alligator springtime roar "shook his house" (Braund 43). The reptiles' absolute realness held in parallel with Bartram's terrific account of them is interesting to observe; it's like holding both of your hands out straight in front of you and seeing their many similarities but their obvious differences too. His attention was so focused that, in ways, it seemed to drift, getting carried away in fancy and letting fancy color and hatch-line truth instead of staying tethered to (just) what was really there. The subsequent attention that each author gives, coming up behind Bartram, underlines and strikes through, highlighting what might have been smaller, bigger, or simply different than how Bartram perceived it to be.
And there is this, too: All the way back in the eighteenth century, Bartram seemed to create his own social media-esque highlights-only reel, stringing the best parts of multiple trips together into one lovely story where everything presented and worked out perfectly; all of the flowers and trees were blooming as he passed by, and the nests were both empty and full. Was it for the reader, so they could enjoy a more smooth sailing kind of experience than he did, or was it for a more beautiful and admirable—though unrealistic—reflection of himself when looking back on time?
Looking at Bartram and at his work, readers will be forced to hold the hard stones in one hand while holding the good fruits in the other. In attempting to share with you what so captured his attention, Bartram sometimes overlooked what we see now as obvious; sometimes exaggerated, sharpened, and blurred for reasons we still don't know. Maybe because he saw real things fantastically; maybe because he wanted so badly for everything to be fantastic. Thomas Hallock might have put it best, later on in the collection, when he said that "the path from physical place in the eighteenth century to the present day is not simple or direct" (203).
One of the things I love most about Bartram (now that I know him) is the way he tried to describe to you what he saw as exactly as he could, showing things as "more of a promoter of a visible scene than of an advocate for a position or opinion" (Ross 159). He seems to be sitting, crouching, pointing, and walking through scenes as a lover of nature and a friend; a sort of accidental and ego-less teacher. Bartram felt "intense ardor for unaltered, pristine natural settings and an associated discomfort with operating in a human society in which he felt he had no place" (McGaughy 3), closing his eyes, perhaps, to things that were difficult to bear, to the reality of trips that were not always fantastic, alligators not as big (or himself as brave) as he said. Then the hardest lesson, that not everyone is good. Perhaps this is how he kept his energy and attention on just one thing, the thing that he loved most and that he felt he could control—traveling through sun and storm, in sickness and in health, to document and share everything that he deemed good in the world.
The finished sketch, still incomplete, seems realistic: a thoughtful, curious, and dedicated person went walking through a nature-dominated South many, many years ago, looking for, cultivating and sharing the beautiful-good in the world, as so many of us still are today.