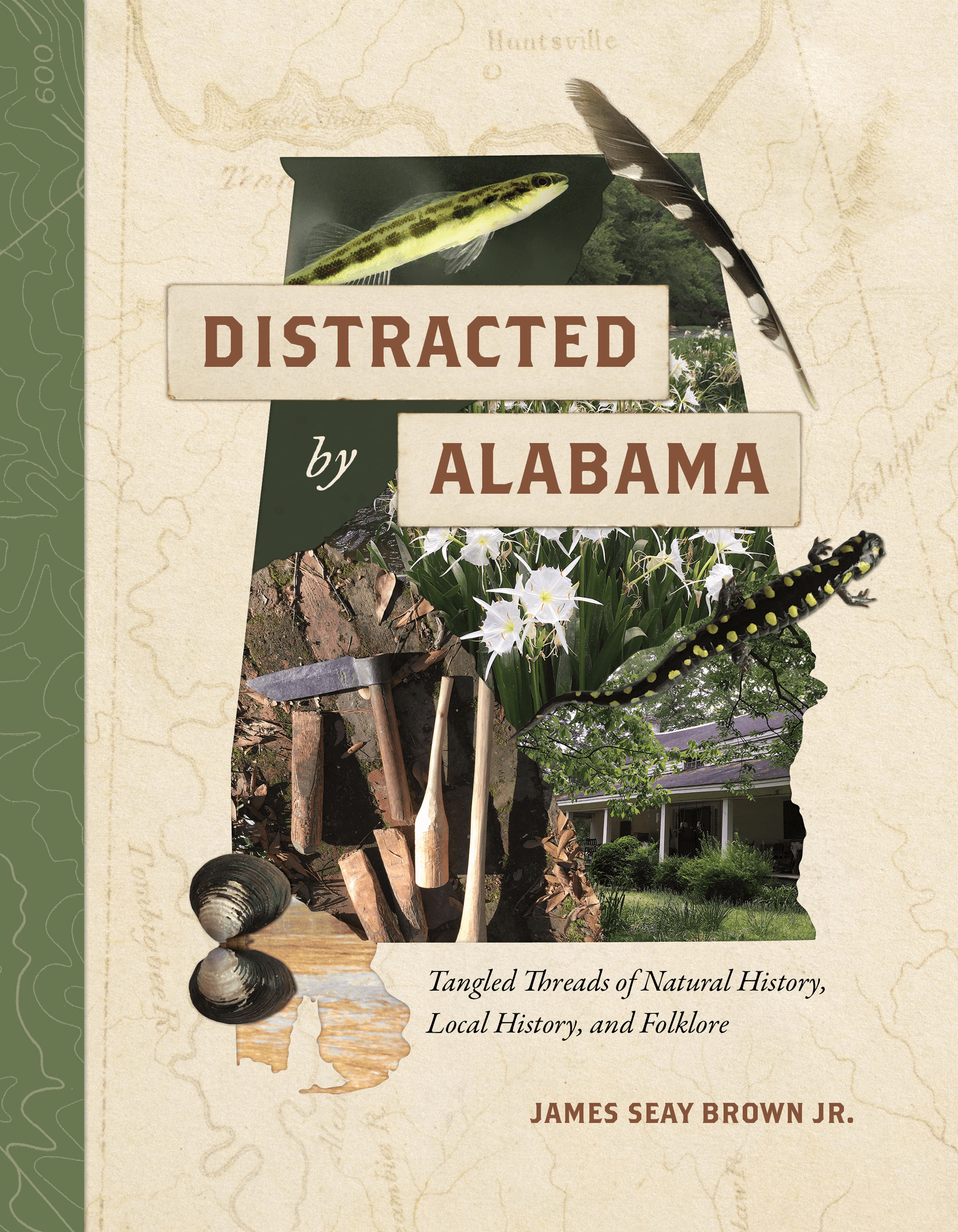 Distracted by Alabama: Tangled Threads of Natural History, Local History, and Folklore
By James Seay Brown Jr.
The University of Alabama Press; 2022
Hardcover: $39.95; E Book: $39.95
Genre: Nonfiction; Natural History; Folklore
Reviewed by Edward Journey
Distracted by Alabama: Tangled Threads of Natural History, Local History, and Folklore is James Seay Brown Jr.'s enthusiastic and detailed examination of twelve topics that make Alabama special to him. Along the way, he interviews and profiles a multitude of colorful and exuberant personalities who have taught him about these places and things, other crafts, and life itself. Brown, a retired Professor Emeritus of History from Samford University, is a committed teacher with the desire to share the knowledge he has gained over a lifetime.
James Seay Brown Jr., a Tennessee native, moved to Birmingham in 1971 to take a position at Samford with a specialty in Russian and modern European history. According to Brown's account, his fascination with all aspects of Alabama – mainly, its natural history and folk culture – ultimately superseded any ambition to turn his Russian history dissertation into a published book. Even so, he stayed somewhat within his area of academic expertise with the book Fairy Tales, Patriotism and the Nation-State: The Rise of the Modern West and the Response of the World. Brown has written extensively throughout his career, including earlier versions of some of the chapters in Distracted by Alabama. He edited Up before Daylight: Life Histories from the Alabama Writers' Project, 1938-1939 and has served in numerous professional and community capacities, including as president of the Alabama Folklife Association.
Brown's over half-century of explorations of Alabama began a mere three days after his arrival in Birmingham when he discovered the Cahaba River, a place which has been a constant in his life ever since. As an "outsider" at the time, he had the advantage of looking at the state with fresh eyes and was able to discover attractions and events that might elude or not seem so special to a more casual observer or long-time resident. Among the people and places Brown celebrates are a salamander migration spot, a railroad culvert with a connection to pre-Civil War mining history, fishtraps and fishing with snares (he's an enthusiastic fisherman), herbalists, basket-makers, sacred harp singing, vernacular architecture, and the practical art of railroad calling.
Brown's narrative style sometimes feels like an internet search; one thing will suggest another and a rambling stream of consciousness and memories will ensue. The sidetracks will eventually wind back around to the main point, mostly. He invites the reader to pick and choose among the twelve chapters, each of which "can still be read as a stand-alone article," but he frequently urges the reader to keep reading by writing that more details are "to be described shortly," or "I'll save that for the chapter still to come," or suggests that the reader refer back to a previous chapter for further explanation.  
Much of the book deals with the specificity of crafts and Brown carefully provides detailed instructions on the making of baskets, snares, and fishtraps, and the intricacies of shaped-note singing and notation.  Occasionally, these sections become tedious to navigate, but it is clear that Brown's intent is to write down details of obscure or dying traditions for posterity, and sometimes the detailed descriptions are fascinating indeed, depending on the reader's interest.
Brown's experiences are very much tied into his innate skill and advocacy for experiential education – hands-on, practical education with a strong social component. In this way, as a professor, he is able to bring his interests in folklore to bear on ways of discovering history and making it live for an audience, in the community as well as in the classroom. He is influenced by the Foxfire model in Appalachian Georgia, and Alabama off-shoots such as Sparrow Hawk at Bibb County High School, experiential workshops brainstormed at Tannehill State Park, and the annual Mountain Workshop of the Alabama Audubon Society.
It's in Brown's many colorful descriptions of the people he encounters, explores with, and occasionally causes mischief with that Distracted by Alabama soars and finds its most complete success. Herb doctor Tommie Bass charms a hesitant visitor with his courtly invitation to "Come into the house, pretty young girl." Morgan and "Mott" Lovejoy spin nonstop fish stories about their adventures snaring river redhorse. Railroad caller John Mealing knows "there's honey in the rock in the South … and I want to be there when they find it." Landscape architect Jane Reed Ross quietly leaves her mark throughout the Birmingham metro area with public fountains, sculpture gardens, and greenways.
Distracted by Alabama provides a valuable reference for anyone who savors the diversity of the state and its people, or who is interested in finding new adventures. It will open the reader's eyes to engaging prospects and provide perspective on things that are already familiar. For example, I remember attending a sacred harp singing in Cullman County as a young boy; now that I've read Brown's primer devoted to the form, I want to track down another singing so that I can more fully appreciate that ancient form's meaning and legacy, especially since, according to Brown, Alabama seems to be its current "center of gravity." For that and many other reasons, I'm happy to have read Distracted by Alabama and am eager to explore.
Edward Journey, a retired educator and theatre artist, is on the editorial board of Southern Theatre magazine, regularly shares his essays in the online journal "Professional Southerner" (www.professionalsoutherner.com), and has most recently published reviews, papers, and articles in Alabama Writers' Forum, Arkansas Review, Southern Theatre, and Theatre Symposium.