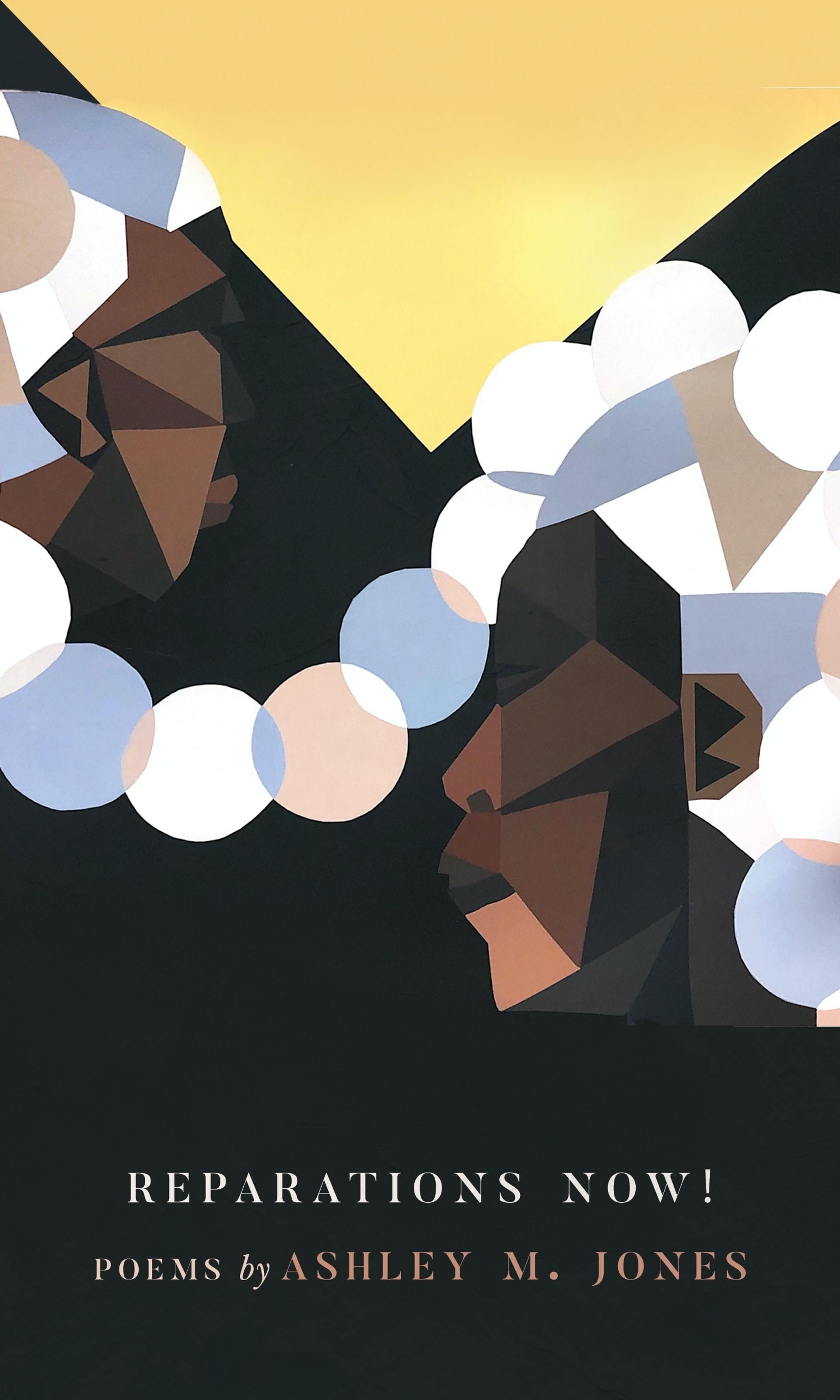 Reparations Now!
By Ashley M. Jones
Hub City Press, 2021
Paperback: $16.00
Genre: Poetry
Review by Lisa Hase-Jackson
In her latest collection, Reparations Now!, newly appointed Alabama Poet Laureate, Ashley M. Jones, braids the interpersonal with the political to record a family's legacy within the context of American history, where liberty has always been reserved for specific individuals. It is at once tender and steady as it lays open, like a scrapbook of photographs and postcards, familial relationships and harsh realities that exemplify the racial inequities persisting in our country today.
The opening poem, "For Donald Lewis Jones," eulogizes Jones' father, a Midfield fire chief who had risen through the ranks of the Birmingham Fire and Rescue department before accepting the position as chief of Midfield in 2020. The poem describes a father who "was deliberate, / delicate in his loving. Complete in his care," and illustrates a bond that clearly continues to influence the speaker despite the father's untimely death. "Dad," the poem begins, "every blade of grass wears your name / on the wind, your laugh in great swaths of air," intimates the comingling of joy and sorrow that characterizes the speaker's grief. "Now, days feel more like years because you're gone," the poem continues, reiterating how long-lasting grief for a lost parent is and deftly and acknowledging that sorrow never travels without joy.
At 31, Jones is the youngest Alabama poet Laureate in that state's history and the first Black woman to hold the honorary office. She earned her MFA from Florida International University before returning to Birmingham to teach at the Alabama School of Fine Arts. Jones' previous collections include dark // thing (Pleiades Press, 2017) and Magic City Gospel (Hub City Press, 2017), which won the Rona Jaffe Writer's Award.
"For Donald Lewis Jones" foreshadows, in tone and subject, poems which honor the poet's parents. In particular, "She Is Beauty, She Is Grace," dedicated to Breonna Tayler, Sandra Bland, Oluwatoyin Salau, and "so many killed black girls," depicts a deeply loving mother determined to impress confidence onto her daughter: "My mother always told me I was beautiful…. bought me baby and Barbie dolls / who shared my skin—told me how God made me Black and worthy." Through examining the mother's determination to imbue her child with ample self-esteem to navigate "the world outside," one that "plots [our] demise," Jones emphasizes the dichotomy that exists between the familial cocoon and the world beyond that cocoon.
These contrasts are particularly evident in the realm of body politics and the palpable male gaze, which are acutely addressed in "A Poem About The Body." Examining self-image as a consequence of society's projections, this multi-section poem begins with the refrain: "I don't know new words to say about the body, / but I know that my body is new, / changed from the bones of my youth," before describing physical changes experienced by the speaker, from an emaciated child with "knobby hips… / poking, slightly over the lip of a low rise jean" to an encounter with a man who tells her she has a "woman's body," and that "it is natural to compare women's bodies / it is natural to have one girl and have one other / it is natural to use bodies where hearts should be." The male speaker continues: "He said a part of me was universal…that part was big enough for the Black men and small enough for the White," a chilling encounter illuminating the degree to which men feel entitled to comment authoritatively on women's bodies – and to justify such entitlement by suggesting it is natural, so therefore "right." The poem closes with:
On the street, I brace myself for the eyes.
Men in their cars on their bikes on their own two feet watch me. Some shout.
Pretty lady, pretty girl, they say.
They dream me worthy of this bastardized praise.
Is this worthiness enough?
acknowledging that the male gaze is everywhere, and that such commentary is meant to legitimize women's existences – suggesting that without men, women are invisible.
Nowhere is the body politic so vivid and visceral as in the poems "Mary, Don't You Weep, Or, Mary Turner Resurrected," which responds to the lynching of Mary Turner, a pregnant woman who sought justice for the lynching of her husband in Brooks County, Georgia on May 19, 1918, and "The Hymn of the Dogwood Tree," which is prefaced with a "popular" lynching postcard poem from 1908 in which the branch of the dogwood tree serves as metaphor for White Supremacy ("let the white supreme forever be").
The title poem, "Reparations Now, Reparations Tomorrow, Reparations Forever" directly rebuts George Wallace's 1963 Inaugural speech, in which the four-term governor of Alabama concludes his Jim Crow-inspired address with the declaration "Segregation now…segregation tomorrow…segregation forever," thus solidifying his resistance, and that of his state, to the Civil Rights Movement. Jones notes in an epigraph that her five-part poem lifts text directly from Wallace's oration. By rearranging said text, she is able reclaim Wallace's words and undermine their authority. Further, by replacing the term "segregation" with "reparations," she recasts Wallace's intention to one of justice rather than oppression. Harkening to the parental pillars that gird this stalwart collection, Jones declares in part five of this poem: "My parents told me I could be anything, even God. That's the least I'm owed—to know I'm worth heaven, yes, but also worth a life on earth."
In Reparations Now! Jones' keen ear and sharp eye bring forth the interconnectedness of individual and group, family and society, class and culture. She uses a variety of forms, including sonnet, Aubade, and ghazal, as well as anaphora, rhythm & rhyme to emphasizes her theme that reparations are necessary, even urgent, if this country truly desires to make amends; if its people wish to begin the process of healing. Like Jones' other books, Reparations Now! is important for its ability to illustrate and bring to light the history that has been deliberately and systematically kept hidden from many Americans.  
Lisa M. Hase-Jackson is author of Flint and Fire (The Word Works). Her poems have appeared most recently in Cimarron Review, Tipton Poetry Journal, and Limp Wrist as well as anthologized in Ice on a Hot Stove (Clemson University Press) and The Strategic Poet. She teaches creative writing in Charleston, South Carolina and is Editor for South 85 Journal.