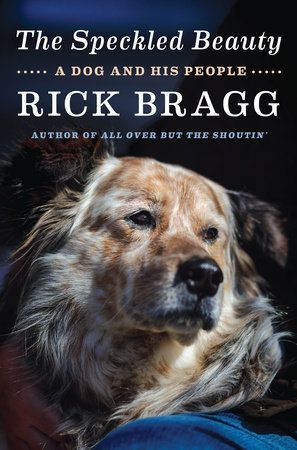 The Speckled Beauty: A Dog and his People, Lost and Found
by Rick Bragg
Knopf, 2021
Hardcover: $26.00
Genre: Nonfiction; Memoir
Review by Tucker Coombe
The opening of Rick Bragg's new memoir depicts a gorgeous, luxuriant landscape—"tangled pines and mountain pasture, fractured by dappled sunlight…blue jays, yellowhammers, and an emerald blur of hummingbirds"—that provides a stunning, if unlikely, backdrop for the author's own desolation. The Speckled Beauty: A Dog and his People, Lost and Found opens in the autumn of 2017. Bragg, following chemotherapy for non-Hodgkin's lymphoma, has returned to live with his eighty-three-year-old mother on her farm in Jacksonville, Alabama. "I was in remission, but what lingered in me did not show in the lab work or in an MRI. The treatment muddled my thinking, confused the colors, and even burned holes in my memory."
"The truth is that I had come to think of my life as a story I had already finished, and everything left was just a dull waiting, like cocktail hour at a Howard Johnson's," he writes.
When a half-blind, rough-looking, speckled dog appears amongst the ever-shifting pack of strays, Bragg takes note. And when he sees the dog lying alone up on the ridge beyond the family cabin, he heads up to investigate.
Bragg is a Pulitzer Prize-winning journalist and the author of critically acclaimed books about life and family in northeastern Alabama. He creates stories to make sense of an often-senseless world. So the urge to explain how this once-noble beast wound up on the bottom of the canine junk heap is inescapable. "[The dog] was abandoned at the side of the road, because he was damaged, or inconvenient. He ran with the strays, lived in ditches and dumps and pulpwood barrens for a year or more, a king of the damned, till they turned on him, tore him up, and drove him out. He wandered, getting hungrier, weaker, searching for a life that must have faded a little more with every passing day," he writes.
The dog, like Bragg, has reached the end of the line. Bragg offers him some stale raisin bread and a scratch behind the ear, picks him up––"[it] was like toting a pillowcase full of sticks"––and carries him inside. With "a big skillet of milk gravy rich in bacon grease," he and his mother begin the dog's rehabilitation.
Speck, as the dog comes to be called, follows in a long literary tradition of so-called 'bad' dogs. Recall "[t]hat dirty, stinking rascal," from Fred Gipson's Old Yeller, a book Bragg mentions fondly, who welcomes himself to the family by stealing a "side of middling meat," then cavorting in the family's drinking water with Little Arliss, the narrator's five-year-old brother. Think of Jon Katz's infamous border collie, Orson, (A Dog Year: Twelve Months, Four Dogs, and Me) who repeatedly escapes the fenced yard, tries to "herd" school buses full of children, and jumps on top of a passing minivan.
Speck, as if for sport, terrorizes the family's small, timid dog and runs him off his food bowl. He harangues the mule and the donkeys. He drags part of a deer carcass up to the house and chews on it, right under the kitchen window. He sets the cats into a frenzy, and he pees on everything. Every so often, he runs off to fight with the strays. "In the dog's first month here," writes Bragg, "he was incarcerated twenty-nine times. Telling him to behave, even after almost two years now, is like telling him it is Tuesday."
But if he is a bad dog, Bragg notes, he is a joyful one: exuberant, foolhardy, and generous with affection. When Speck tears through the author's bedroom, ripping up everything, "I slumped into my chair and laughed out loud. I could get a new blanket, new sheet, new bed, but the days, Lord, the days I could not change on my own."
Bragg creates deeply moving scenes without a hint of sentimental language. Through wry humor and deft understatement, he pairs the serious and the ludicrous without diminishing either. One such scene occurs after the dog has run away for several days. Bragg finds him at the end of the driveway, collapsed near a puddle of blood. "The back of his neck was spongy from bites, and his thick fur was soaked with blood; all his wounds were infected; you could smell the decay on him," he writes.
Bragg wraps the dog in a blanket and prepares to take him to the vet. But his mother—"[my] people think a good story will fix just about anything," he writes––leans down over the dog and begins speaking: "'[S]o we'll name you after one of our Georgia cousins, Geraldine. She was my aunt Louvadie's adopted granddaughter…[with] black hair and big, big freckles…Daddy saw all them freckles, just hundreds and hundreds and hundreds of 'em, and he named her right then and there. He said, 'Why, she's a speckled beauty.' I guess he wanted to make her feel better, you know, about being homely. And that's what we'll call you. But not 'cause you're ugly, but 'cause of all your freckles.'" Later, Bragg will remind the dog just how lucky he is: "'She could have named you Geraldine.'"
Bragg's 1997 best-selling memoir, All Over but the Shoutin', is an ode, of sorts, to his mother, Margaret Bragg. Here, it is his older brother Sam––hard-working, stoic, and sensible––whose character gains interest. Sam approaches dogs with a completely different sensibility than his brother: his dogs are obedient, and they work for a living. "[Sam] grew up in a time when even the best dogs lived at the end of a logging chain and ate from an upside-down hubcap...His dogs would swim a river for him; all he had to do was whistle," writes Bragg. As for Speck: "'I ain't never, NEVER, seen a sorrier dog,'" Sam announces.
The brothers' ongoing banter over the dog provides some of the book's finest moments. Bragg's dialogue is rhythmic, nuanced, and authentic. When Sam is diagnosed with a devastating illness, his attitude toward Speck shifts slightly––but even here, Bragg steers clear of easy descriptions and predictable language. "The dog sat beside [Sam], like he had figured out which one of us needed him more...Sam would say something a little nasty, sometimes, about his aroma, or the trash he dragged into the yard, but it always ended, somehow, with his hand on the dog's head."
Bragg brings us into a world where beauty is ringed with sadness and cruelty, symbolized, in part, by the pack of strays that periodically wander into view. The dogs are both menacing and pitiable; "Most of them were doomed, sick with tick-borne disease and heartworms, painted with mange, eaten by fleas," Bragg writes––­­and their presence raises the issue of how each of us navigates the terrible harshness of the world. Perhaps, Bragg suggests to his brother, people refer to the pack as "wild," rather than "strays," because it "[makes] them sound dangerous, [makes] it easier to shoot, trap, even poison them.'" And he wonders, as he watches his own dog prance around the yard, "if there was another Speck among those strays, just trying to get home."
Family lore, tales of sisters and brothers, stories from childhood, legends about the creatures living in the woods, forms an integral part of Bragg's landscape, and it is here that Speck earns his place. "The dog loved the cool weather, and gamboled inside great whorls of blowing red and gold, chasing the characters of those old stories across the leaves," Bragg writes. "I used to love those homemade stories when I was a boy. I went to sleep listening to them. I cannot remember a one, not all the way through. I only remember the feeling, like a hundred-year-old quilt floating down to cover me. I wonder if the dog will endure like that…"

Two years after his arrival, Speck is still no angel. But his instinctive response to unspoken, human emotion––loneliness, fear, despair––is reassuring and unerring. Bragg, for the first time in years, senses a quiet spark within himself. Are the two connected? Bragg never tries to analyze his relationship with this unusual dog. At its core––like Speck's own backstory––it remains a mystery.
 
Tucker Coombe writes about nature and education from her home in Cincinnati. Her work has appeared in Hazlitt, the Los Angeles Review of Books, and The Rumpus, among other publications.