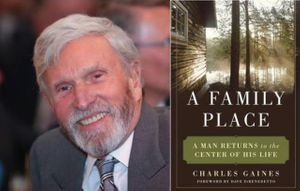 The Monroeville Literary Festival and the Truman Capote Prize Committee are pleased to announce that Birmingham native Charles Gaines has been selected as the 2020 recipient of the Truman Capote Prize in Literary Nonfiction. The Festival and the Association of College English Teachers of Alabama announce that the recipient of the 2020 Eugene Current-Garcia Award winner is Dr. Robert C. Evans, Professor of English at Auburn University-Montgomery.
Both winners will receive their awards March 6 at Festival programs set in the Monroe County Courthouse. These events are open to the public free of charge. 
For a complete schedule and ticket information, please visit www.MonroevilleLiteraryFestival.com
Charles Gaines, 2020 Truman Capote Award Recipient
Charles Gaines was born in Jacksonville, Florida, and at the age of ten moved with his family to Birmingham. He received his undergraduate degree from Birmingham-Southern College. His first novel, Stay Hungry, was published in 1972 and focused on the subculture of bodybuilding during the early 1970s. The book was made into a motion picture in 1976 starring Jeff Bridges, Sally Field, and Arnold Schwarzenegger (in his first film).
An award-winning writer across multiple genres, Gaines has written other produced screenplays and adaptations, other fiction and numerous articles about fishing and outdoor life in magazines including Outside and Garden and Gun. In 1980, with his friend Hayes Noel, he became a co-creator of the game of paintball. Gaines is a 2018 inductee of the Alabama Writers Hall of Fame.
Dr. Don Noble, Chairman of the Capote Prize Committee, notes that Gaines's ten books of nonfiction are what qualified him for the Prize, and highlights Pumping Iron as "gracefully and clearly written." Of Gaines, Noble said, "Just as we say, half seriously, that Gay Talese was the originator of the New Journalism, we might say that Gaines, first with the novel Stay Hungry, and then Pumping Iron, Pumping Iron II: The Unprecedented Woman, and his biography of Charles Atlas, re-established body-building as a sport in America." "A Family Place," is a beautifully written and powerfully moving story of a family who, in building a house together in Nova Scotia, also establishes new traditions and lays the foundation for the family's future, Noble said.
The Truman Capote Prize recognizes distinguished work in the short story or creative nonfiction by a writer with a strong Alabama connection. It is given in honor of Truman Capote, who spent several years of his childhood in Monroeville, Alabama. He went on to become a professional writer, making waves with his debut novel Other Voices, Other Rooms. Capote's short stories appeared in numerous national magazines, and his novella Breakfast at Tiffany's (1958) was adapted into a popular film with Audrey Hepburn. Capote's book In Cold Blood (1966) was a pioneering form of narrative non-fiction, and so the Capote Prize recognizes work from two of Capote's most noteworthy genres.
Dr. Robert Evans, 2020 Eugene Current-Garcia Award Recipient
Author of eight books, including Perspectives on Renaissance Poetry, Perspectives on World War I Poetry, Othello: A Critical Reader, and The Seventeenth-Century Literature Handbook, and hundreds of articles, Dr. Evans's prolific literary scholarship has advanced the field of Renaissance Studies. Over the years, Dr. Evans has been the recipient of numerous research fellowships and has served as an editor for several journals and more than forty books. Although his scholarship began with a focus on Ben Jonson, his research at the Yale library in 1993 recovered a lost Renaissance author, Martha Moulsworth – a discovery that garnered the attention of the Alabama Humanities Foundation and the inclusion of her poem in two of Norton's anthologies of literature. Dr. Evans' scholarly inquiry has expanded to include work on Kate Chopin, Flannery O'Connor, Harper Lee, and most recently, Ralph Ellison.
According to ACETA officials, just as notable, has been Dr. Evan's commitment to students, not only as an admired professor, but also as a mentor to more than a hundred graduate students and student writers. While at AUM, he has received numerous awards, including the Faculty Excellence Award, Distinguished Research Professor, Distinguished Teaching Professor, Who's Who among College Professors nomination, and Professor of the Year by the South Atlantic Association of Departments of English.