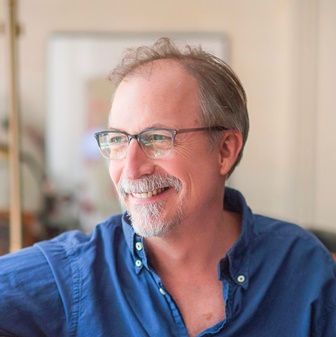 Novelist Daniel Wallace named 2019 Harper Lee Award Winner
MONTGOMERY, Ala.— Daniel Wallace, acclaimed author of "Big Fish," has been selected to receive the 2019 Harper Lee Award for Alabama's Distinguished Writer of the Year.
The award is given to a living, nationally recognized Alabama writer who has made a significant lifelong contribution to Alabama letters. Wallace will receive the honor during the Awards Luncheon at the Alabama Writers Symposium in Monroeville, Alabama, on April 26, 2019.
"Receiving the Harper Lee Award makes me so happy." said Daniel Wallace. "I've lived a long time away, but my imagination never left Alabama. All my stories happen there, and it's where all of my characters live and die. Thank you, Alabama. This is such an honor."
Wallace is the author of six novels, including "Big Fish" (1998), "Ray in Reverse" (2000), "The Watermelon King" (2003), "Mr. Sebastian and the Negro Musician" (2007), "The Kings and Queens of Roam" (2013), and most recently "Extraordinary Adventures" (May 2017). His children's book, published in 2014, and for which he did both the words and the pictures, is called "The Cat's Pajamas."
In 2003 "Big Fish" was adapted and released as a major motion picture and then in 2013, according to Wallace, "the book and the movie were mish-mashed together and became a Broadway musical." His novels have been translated into over two-dozen languages. Many of his novels, short stories, and essays are taught in high schools and colleges throughout the country. 
Daniel Wallace was born and raised in Birmingham, Alabama, where he attended Birmingham University School and Altamont. He is the J. Ross MacDonald Distinguished Professor of English at the University of North Carolina at Chapel Hill, his alma mater, where he directs the Creative Writing Program.
According to Jay Lamar, Executive Director of the Alabama Bicentennial Commission "Daniel Wallace has captivated readers' imaginations from his first amazing, unconventional, but deeply true novel, "Big Fish," to his most recent, the surprising and funny "Extraordinary Adventures."
"The native son of a state acknowledged for its tale-telling proclivities, Wallace has taken the craft to new places with humor, warmth, and an abundance of optimism, so needed in the world," Lamar said.
"His stories are beautifully crafted, rich, and accessible and so important because they enlarge the human repertoire of identity, love, and expression," Lamar said. "It is hard to think of a more appropriate writer to receive the Harper Lee Award, nor a more appropriate time than this, the bicentennial year of Sharing Our Stories."
Alabama literary expert Don Noble, popular host of APTV's BookMark, says Daniel Wallace is a comic genius, the Mark Twain of Alabama, mixing serious social/cultural commentary with a singular vision. "He is best known for "Big Fish" partly because that novel has been made into a hit movie and a Broadway musical, but several other novels are just as worthy," Noble said.
"Mr. Sebastian and the Negro Magician" blends the realistic with the magical while "The Kings and Queens of Roam" mixes the real with the mythological. His most recent novel, "Extraordinary Adventures," set in Birmingham, is a warm, perfectly accessible story of loneliness and possibility right here and in our present moment, according to Noble, who regularly reviews books for Alabama Public Radio.
Anita Miller Garner, Professor of English Emeritus, University of North Alabama, who has observed Wallace's literary ascent, said, "We in North Alabama are extremely excited that Daniel Wallace has been selected as the 2019 recipient of the Harper Lee Award. Alabamians love the novel "Big Fish" and still love to visit the set near Wetumpka where the movie adaptation was filmed.
"But fewer Alabamians may be aware of what a dedicated, accomplished writer Wallace has been in multiple genres," Garner said. "Not only has he written a best-selling novel, but he has also excelled as a writer of drama and memoir. Fewer still may know of Wallace's humor writing and cartoons or his commitment to promoting excellence in craft among his colleagues and students of writing. He has deep family roots and many devoted fans here in North Alabama. We are delighted this award showcases Wallace's lifetime achievement as a writer."
During the two-day symposium, Wallace will read from his work in the Monroe County Courthouse and be available to participants to talk about his work and sign books. Other activities related to Wallace's award, along with the complete list of authors, will be announced soon.
The Harper Lee Award for Alabama's Distinguished Writer of the Year, presented annually at Coastal Alabama Community College during the Alabama Writers Symposium in Monroeville, is made possible through a generous grant from George F. Landegger, chairman, Parsons & Whittemore.
The Alabama Writers' Forum, a statewide literary arts organization and partnership program of the Alabama State Council on the Arts, coordinates the process to select the Harper Lee Award recipient annually from nominations from the field.

To register for the Alabama Writers Symposium, contact Alisha Linam at 251-575-8271 or Alisha.Linam@coastalalabama.edu.  For more info, visit the website for the Alabama Writers Symposium 2019.
Photo of Daniel Wallace by Iman Woods.