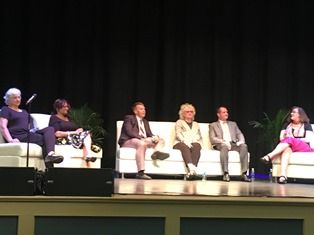 Novelist Mark Childress has told the tale before, but at the request of panel moderator Don Noble he told it again. The story goes something like this: When Antonio Banderas saw Speake, Alabama, native Lucas Black in the movie Sling Blade, he knew he had to cast the boy in his film adaptation of Childress' book, Crazy in Alabama. Problem was, when Black arrived on set, no one—not Banderas, not leading lady Melanie Griffith—could understand his thick, northwest Alabama drawl. "I was essentially on set as Lucas' interpreter," said Childress, who also wrote the movie's screenplay.
Childress, Noble, and other Alabama authors, including Kitty Johnson, Deborah Johnson, Michael Morris, Joshilyn Jackson, and Carolyn Haines, assembled at the newly renovated Lyric Theatre in downtown Birmingham on June 28 to celebrate the twenty-third anniversary of the book's release and the release of a new edition. Books-A-Million (BAM), which threw a party for the book's original release—complete with a 60s model Cadillac and a vintage hatbox—sponsored the event.
"We first discovered Mark when Crazy was published," said Terry Finley, President and Chief Executive Officer of BAM. "The book was and is a delightful Southern classic, and the connection to an Alabama based bookseller was irresistible."
"Books- A-Million has been supporting this book since before it was published in 1993," said Childress, who received the Harper Lee Award for Alabama's Distinguished Writer of the Year in 2014. "They had a great launch party for the book back then, and they've been supportive ever since. It's very cool that they ordered a new edition, and I'm tickled to get to come to Birmingham to celebrate with everybody."
Noble added, "It is always a good idea to celebrate the anniversaries of books. Crazy in Alabama had national recognition as a novel and definitely as a movie. A period piece yes, but not dated."
BAM's press release describes the novel as "a tale of a hot, restless summer and an unforgettable woman who looks for salvation in Hollywood. Filled with both comedy and tragedy, the story follows Lucille, who ventures from Alabama to Los Angeles to star in The Beverly Hillbillies TV series, and her twelve-year-old nephew, Peejoe, who discovers two kinds of Southern justice."
The panel sat on plush white couches, surrounded by the grandeur of the lush golds and teals and russets that mark the interior of the old vaudeville house and discussed some of the major themes of the book—spousal abuse, racism, grandparents rearing grandchildren. The discussion was more witty banter than academic stodginess.
"The book has elements of the serious—the racial struggle—and the macabre/farcical—the talking head in the Tupperware lettuce keeper," said Noble.
"Mark captured a specific time in Southern history," said 2010 Harper Lee Award recipient Haynes. "He made the eccentricities of our Southern relatives real—and almost normal. And he made me laugh. Really laugh. It's a book of great generosity of spirit and a rambunctious storyline. He has captured the things I love best about my homeland, and he has given his characters heart and courage. And I'm a great believer that there are some men who just need killing."
Jackson emphasized the Southern attitude toward eccentric relatives. "We don't hide our lunatics," she said. "We put them on the front porch with a glass of iced tea."
Noble asked Childress how the idea for the novel came about. He explained that as a child he would visit his grandmother in Calera, Alabama, during summers. He found great comfort from the heat in the town's public swimming pool. One year he returned to discover the pool filled with asphalt. The city had filled in the pool rather than have white children and black children swim together. This action angered the young Childress.
"I decided then at the age of eight that that was wrong," he said. "I put that in my pipe and smoked it for twenty-five years, and that's why I wrote the book."
Now living in Vietnam, Childress closed the discussion with an homage of sorts to his native state.
"Writing about Alabama is a virus," he said. "It's a lifelong virus. I've been living in Hanoi, and I'm still writing about Grandma sitting on the porch."
Photo: (l-r) Panelists Carolyn Haines, Deborah Johnson, Mark Childress, Kitty Johnson, Michael Morris, and Joshilyn Jackson. (Rachel DM Henderson)