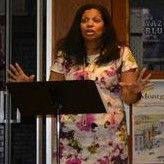 At its June meeting in Montgomery, the Alabama State Council on the Arts (ASCA) awarded sixteen fellowship grants including one arts administration fellowship totaling $80,000, and seven Arts and Cultural Facilities grants totaling, $177,500, for a grand total of $257,500. Fellowship grants are awarded to individual artists and are based on merit of work, career achievement, professional development, and service to the state. Arts and cultural facilities grants are awarded for planning, design or construction of an arts space. All projects must involve top professionals with demonstrated expertise in urban and/or community planning, architecture, landscape design, or historic preservation. This round of grants will support activity taking place between October 1, 2016, and September 30, 2017.
Jacqueline Allen Trimble of Montgomery and Ash Parson of Auburn received Literary Arts Fellowships.
The arts and cultural facilities grant program provides support to organizations large and small in an effort to enhance spaces for arts creation and presentation. In all cases where a grant is awarded, evidence of community support is a key element. Al Head, Executive Director of the Council said, "In the past eleven years since the inception of the program for cultural facilities, the Council has provided support for diverse projects in communities from all parts of the state. This year's support includes the communities of Elba, Mentone, Montgomery, Selma, Hartselle, and Birmingham. All of these facility oriented projects represent important initiatives to enhance spaces where arts programming will involve all of the community."
Fellowships are grants awarded to outstanding individual artists from Alabama who create important works of art and make valuable contributions to the entire state. Dora James, Chairman of the Council, emphasized, "Our state is fortunate to have so many artists from every artistic discipline producing works of the highest caliber."
Fellowships are given to individual artists working in literature, arts administration, crafts, dance, design, media/photography, music, theatre, and visual arts. These awards recognize artistic excellence as well as professional commitment and maturity. Recipients may use funds to set aside time to create art, to improve their skills, or to do what is most advantageous to enhance their artistic careers.
These grants are in response to applications submitted under a March 1, 2016, deadline and are awarded for the 2017 fiscal year beginning October 1, 2016, and extending through September 30, 2017.
The 15-member Council makes final decisions on all grants awarded.
The next deadline for the submission of grant applications for fellowships and arts and cultural facilities applications is March 1, 2017. For a complete list of grantees, visit http://www.arts.alabama.gov/news_detail.aspx?ID=10562.
Photo: Jacqueline Allen Trimble (contributed)