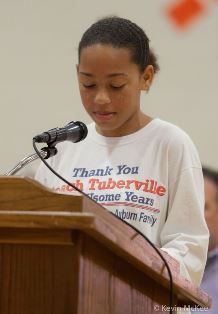 Poetry is language at its most distilled and most powerful.—Rita Dove, 1987 Pulitzer Prize Winner in Poetry
Students from two South Shelby County Schools celebrated the release of a pair of poetry books with contributions from nearly 150 student writers. Pantheon of Dreams, edited by Elizabeth Birdsong, includes work by Columbiana Middle School students. Birdsong is the seventh grade English teacher at CMS. Students from Montevallo Middle School produced New Life, edited by teaching writer Tony Crunk, who taught for five years at CMS before turning the reins over to Birdsong. This is his second year at MMS. Evelyn Moore, seventh grade English teacher, serves as cooperating teacher. The books are a product of the Writing Our Stories program.
At both schools, proud parents and entire student bodies filled the gyms at each school to celebrate the newly published authors.
Crunk, who grew up in rural western Kentucky, noted the uniqueness of the program in Shelby County and elsewhere through the country.
"In my junior high school, there were no creative writing classes, the one art class was pretty much a joke, there was no interest in the school or in the community to support anything like a Writing Our Stories Program," said Crunk at the July 10 assembly. "In fact, in my community, there was some overt hostility to such things. When I was in high school, a few friends and I wrote some poems, printed them up as a little pamphlet, and were handing out copies in the school cafeteria one day when the principal came up to us, told us we weren't authorized to engage in this activity and that he couldn't let the school be associated with this sort of thing. Then he took our little pamphlets out of our hands and out the back door of the cafeteria and threw them in the dumpster."
Continuing he said, "Now [your] poems and the anthologies are all very important, but the real value of this project is all that other life-giving, life-affirming stuff that goes into it, and that ultimately comes out of it, and that stays with these students and helps ground and shape their lives as they go forward into the world."
"The students worked so hard on their book," said Birdsong. "I didn't know how many creative writers I had in class until we started working on these poems."
Forum Executive Director Jeanie Thompson seemed overwhelmed by the amount of work the student writers produced.
"It is thrilling to see more than 100 new poets," she said. "What you've learned will help you communicate better, to help you feel empathy for others."
Bruce Andrews, executive director of the Shelby County Arts Council, continued with this theme.
Holding a copy of Pantheon of Dreams, he said, "This really matters. The art of communication, I think, is a lost art. What you've learned here will help you communicate better. What you've got here is not just poetry, but a transferable life skill."
Elizabeth Stancil and Matthew Gibson, seniors at Shelby County High School and members of the first Writing Our Stories class at Columbiana Middle School six years ago, also recognized their new literary colleagues.
At the event's conclusion, eight students read from their work. (See samples below.)
A week later at Montevallo Middle School, Principal Sheila Lewis welcomed the guests and praised her Writing Our Stories students.
"These students will soon leave the seventh grade as published authors," she said. "We're all very proud."
Thompson further praised the student writers.
"You are a unique group of students to have Writing Our Stories and your publication of this book," she said. "When you're a writer, you're a member of a community and you have a responsibility within that community to spread the word about writing."
With that six students read examples of their poems. (See samples below.)
Dismissing the assembly, Lewis said, "Take a little time this summer to write. It will broaden your horizons."
The Alabama Writers' Forum partners with the Shelby County Arts Council and the Shelby County School System to bring Writing Our Stories, an award-winning creative writing program, to Columbiana and Montevallo Middle Schools.
Sample student poems:
Music
Music wears a rainbow shirt, with neon pants, and galaxy shoes.
Music explains what can't be spoken.
Music will always be by your side.
It is a moral law.
It gives soul to the universe,
Wings to the mind,
Flight to the imagination,
And charm and gaiety to life.
So if you would,
Play the moments,
Pause the memories,
Stop the pain,
And rewind the happiness.
Samantha Whitman
Columbiana Middle School (51)
Mrs. Brave
She lives in a castle not so far away.
She doesn't get torn down when bad things come her way.
People are always looking up to her because of her bravery,
Though she has taken on rough times.
She can't wait till the day the doctor says she's free.
This is Mrs. Brave.
Samantha Whitman
Columbiana Middle School (51)
Volleyball
The volleyball is like an asteroid
Flying through space.
The net is like a tennis net,
Yet wider and higher in the air.
The yelling of the crowd
Is like loud music at a party.
The sweat is like a track team
After a long track meet.
The spiking
Is like two girls fighting who cannot fight.
The food is like a snack machine
Begging for my money.
The Gatorade® is like heaven
For a tired, thirsty dog.
Timyriauna Purnell
Montevallo Middle School (25)
Cotton
I am a symbol that no one will ever understand,
Picked by the black hand.
He'd stand out in the fields
And pick me
Knowing that he'd never be
Treated as a real man.
White,
That is my color,
The superior color for man.
I have seen the black people
Go through many struggles for me,
For if there were not enough of my friends,
It led to terrible ends.
Today I am in the field
For what seems like ages.
Today I am in the field
And my happiness reaches all range.
Today I am in the field
And I'm happy to say
That I am no longer picked by the black hand,
Though I still am a symbol
That no one will ever understand.
Kayce Sankey
Montevallo Middle School (27)
The Writing Our Stories team acknowledges its 2016 sponsors and partners without whom the program would not be possible.
Sponsors
• Alabama State Council on the Arts, 2011-2016
• Representative Matt Fridy, House District 73, Shelby County
• The Seaman Foundation, 2015-2016
• Elaine Ethridge
• Mary Jean Sandspree
• Bob and Janelle Whetstone
• Contributors to Generosity.com Crowd-Funding
Campaign
Partners in Programs
• The Alabama Writers' Forum, Inc., a partnership program of the Alabama State Council on the Arts, 2011-2016
• The Shelby County Arts Council, 2011-2016
• Columbiana Middle School, 2011-2016
• Montevallo Middle School, 2015-2016
Photo: A Columbiana Middle School student reads her poem from Pantheon of Dreams. (Kevin McKee)