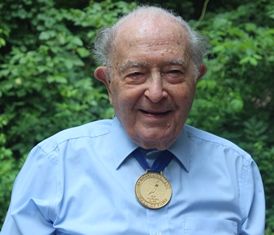 The Alabama Writers Conclave has announced that nominations are open for the office of Poet Laureate of the State of Alabama. The Alabama Poet Laureate is an uncompensated honorary position created by the Alabama Legislature in 1931. Nominees must be Alabama residents who have published at least one volume of poetry with a commercial, educational, or small press and are prepared to promote poetry throughout the state during a four year term. Nominations must be received by June 1, 2016.
Visit the Alabama Writers Conclave for a Nomination Form or contact Nominating Committee Chair Barry Marks by email at barrymarks11386@yahoo.com.
Recent Poet Laureates have included Andrew Glaze and Sue Brannan Walker.
The Alabama Writers Conclave is an 83 year-old writers' organization that provides education and support to writers of prose and poetry through its programs, including an annual writers conference.
Photo: Late Alabama Poet Laureate Andrew Glaze (Elizabeth Glaze Searle)