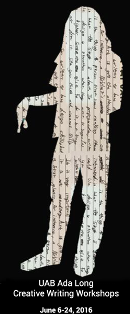 High school students are invited to enrol in the Ada Long Creative Writing Workshop, a three-week workshop that offers a rare opportunity for high school students to learn from published authors. Every day, students will work closely with nationally acclaimed novelists, essayists, and poets, all of whom have extensive teaching experience. The 2016 workshop will take place on June 6-24, Monday through Friday, 9 a.m.-3 p.m.
The workshop is designed for high school students interested in creative writing for personal enrichment, as preparation for university work in creative writing, and as an introduction to creative writing as a career field. Up to thirty students — rising high school sophomores, juniors, and seniors — may participate. Financial aid is available for students with financial need.
The Workshop is sponsored by the UAB English Department in collaboration with the UAB Honors Program. The Workshop is named in honor of Dr. Ada Long, founding director of the UAB Honors Program; Professor of English; and lifelong advocate for community outreach, the value of a liberal education, and the enduring significance of literature.
For more information, contact Tina Braziel, Director, at tmharris@uab.edu or 205-934-8573. Or visit the Ada Long Creative Writing Workshop.