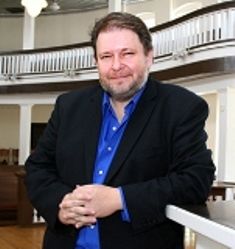 The author lineup for the 2016 Alabama Book Festival on April 23 in Montgomery's Old Alabama Town includes a Pulitzer Prize winner, a former NASA aerospace engineer, and popular newspaper columnists. More than fifty authors will be part of the 11th annual event, which takes place at Montgomery's historic Old Alabama Town and will help celebrate the Year of Alabama Makers. Presenters at the festival include authors who will be familiar to many. Books by festival authors will be available for purchase courtesy of Books-a-Million.
Harper Lee Award and Pulitzer Prize-winning author and Alabama native Rick Bragg is a long-time supporter and frequent guest at the book festival. Bragg's most recent book is a collection of essays titled My Southern Journey: True Stories from the Heart of the South.
Rheta Grimsley Johnson's syndicated column appears in approximately fifty papers nationwide. Her newest book is The Dogs Buried Over the Bridge, a memoir about dogs that have been a part of her life through the years.
Steve Flowers is a former Alabama legislator whose political column is published in more than sixty newspapers. He will share stories from his book Goats & Governors: Six Decades of Colorful Alabama Political Stories.
An alligator named Albert is the subject of Homer Hickam's newest novel, Carrying Albert Home. Hickam is best known for his book Rocket Boys, which was made into the feature film October Sky.
Fans of historical fiction will enjoy hearing Lynn Cullen, whose Twain's End is a fictionalized imagining of the iconic Mark Twain, and Anne Girard, who writes about Jean Harlow in Platinum Doll.
Young and old alike will laugh with "seriously silly" Alan Katz, author of numerous children's books and well known for Take Me Out of the Bathtub. His first chapter book, featured at the festival, is The Day the Mustache Took Over.
Alabama Book Festival coordinator Gail Waller said the event will appeal to all ages. "We've made sure to include authors whose writings cover many reader interests: poetry, children's, young adult, mystery, memoirs, nonfiction, and science fiction. We will also have a children's activity area and costume characters Olivia and Junie B. Jones and an opportunity for all festival visitors to interact with fifty-plus exhibitors," she said.
Publishers, authors, schools, libraries, and literary and arts organizations will be among those represented at booths.
Another highlight will be writing workshops scheduled throughout the day. "These are free on a first-come, first-served basis, and registration will be at www.alabamabookfestival.com." Waller said. Topics will include fiction writing, screenwriting, publishing, illustrating graphic literature, and collaborating with words and photos in a coffee table book.
Sponsors of the 2016 festival include the Alabama State Council on the Arts, Troy University, Old Alabama Town/Landmarks Foundation, the Alabama Humanities Foundation, the City of Montgomery, the Montgomery City-County Public Library, Books-a-Million, the Alabama Library Association, River City Publishing, Bluewater Publications, the Montgomery Advertiser, the Alabama Bench and Bar Historical Society, the National Endowment for the Arts, the Alabama Writers' Forum, the Alabama Tourism Department, and Lamar Advertising.
To view the full festival schedule, sign up for a workshop, or volunteer to help at the festival, visit the website at www.alabamabookfestival.org.
Photo: Rick Bragg (contributed)