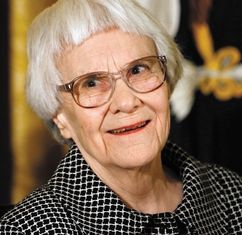 I think there's just one kind of folks. Folks.
--Harper Lee
Nelle Harper Lee shied from publicity after her first novel, To Kill a Mockingbird, was published to great acclaim in 1960. She avoided the press when her second novel, Go Set a Watchman, was released—amid some controversy—in 2015. She could have answered the questions, cleared the debate. She didn't. It's not that Lee was reclusive or snobbish. She was just plain folks. And just plain folks don't discuss their successes.
People in her hometown of Monroeville treated her likewise—just plain folk. They'd see her puttering around downtown or eating breakfast in her favorite fast food joint, but that was just neighbor Nelle. No reason to get excited.
Lee died in her sleep at the Meadows, an assisted living facility, in Monroeville, on the morning of Friday, February 19, 2016. She was 89.
According to a statement from her nephew and family spokesman, Hank Connor, "This is a sad day for our family. America and the world knew Harper Lee as one of the last century's most beloved authors. We knew her as Nellie Harper Lee, a loving member of our family, a devoted friend to the many good people who touched her life, and a generous soul in our community and our state. We will miss her dearly."
Lee scholar and friend Nancy Anderson attended the private funeral on Saturday in Monroeville. She described the service as "dignified, simple. [It] focused on her art not the person." She further wrote that historian Wayne Flynt "delivered a beautiful eulogy, a speech about To Kill a Mockingbird he gave in her presence that she requested that he read at any service for her."
"Many have suffered a personal loss," wrote Anderson, "but readers around the world continue to have her literary legacy."
Readers, writers, and scholars from around the state offered comment on that literary legacy.
On the day of Lee's death, Governor Robert Bentley wrote of her legacy. From a statement issued by his office, he said, "Today, we mourn the loss of Alabama's treasured author Nelle Harper Lee. Harper Lee's literary impact reaches far beyond the borders of our state and nation. To Kill a Mockingbird has impacted people around the word. It is because of Harper Lee that the world knows about her special hometown of Monroeville, which celebrated the launch of Lee's second novel Go Set A Watchman last year. Harper Lee's legacy will live on as we introduce Scout, Jem, Atticus, and Lee's beloved Macomb to future generations. I join Alabamians in praying for Harper Lee's family and the City of Monroeville in the difficult days ahead."
Lee came to literary fame with the publication of Mockingbird in 1960. The novel won the Pulitzer Prize in Fiction the following year. The film version won the Academy Award for Best Picture in 1962. Gregory Peck won for Best Actor, Mary Badham for Best Actress in a Supporting Role, and Horton Foote for his adapted screenplay. The film also won an Oscar for Best Art Direction-Set Decoration, Black-and-White.
The author published her second novel, Go Set a Watchman, in 2015. At present, plans are being laid for a stage adaptation of the novel to be produced on Broadway during the 2017-18 season.
Her many honors included the Presidential Medal of Freedom in 2007 and the 2010 National Medal of Arts. She was inducted into the inaugural class of the Alabama Writers Hall of Fame
in 2015. In addition, Lee received an honorary Harper Lee Award for Alabama's Distinguished Writer of the Year from its benefactor, George F. Landegger, in 2012.
"There is no denying the power of To Kill a Mockingbird," said Don Noble, host of the literary talk show Bookmark. "Thousands of readers say it is the most important book they ever read and that it changed their lives. Mockingbird was a singular phenomenon. It was the perfect blend of father/hero, despicable villain, some comedy, and adorable children. The treatment of racial matters was perfect for its time. I doubt if a publishing event like Mockingbird, a book with near-universal acceptance, can ever happen again."
Fairhope author Roy Hoffman had his novel Chicken Dreaming Corn blurbed by Lee. Upon learning of her death, Hoffman wrote, "As with Eudora Welty, Truman Capote, Robert Penn Warren, Tennessee Williams, and other titans nurtured by the South, Harper Lee's writing reached across cultures and generations, her characters stepping toward us, involving us in their very real and complex worlds. The creative gifts she gave us are ours now to hold, be moved, maddened, and shaped by, and to pass on, her sensibility still immediate, still vibrant, on every page."
Hoffman earlier paid tribute to Lee in his New York Times essay "Harper Lee, My Daughter and Me." The story follows daughter Meredith as she travels to Tuscaloosa to accept a student writing award from Lee for an essay on Mockingbird.
Journalist Connie Baggett of Brewton has made the community theatre adaptation of Mockingbird, performed each spring at the Old Monroe County Courthouse, a family affair. She and three of her daughters have appeared in the theatrical adaptation. She also serves on the Mockingbird Company play committee.
"Today I am feeling very sad, largely because To Kill a Mockingbird was the first novel I truly fell in love with," said Baggett. "Harper Lee was one of us. She expertly described us in our own language and challenged us from inside our ranks. Later, she challenged us from a whole new perspective through Go Set a Watchman, though that had been her original idea for a novel about injustice. She taught us to be tolerant, be better than we are, and to be militant in the pursuit of equality. I feel a bit like a family member has passed away, mostly because she shared her mind with us through those novels. I loved her for all she gave us, and I am sad to know that quick wit, acid temper, and free spirit is no longer among us.
"I often saw Harper Lee in town as I worked as a journalist, and she once called me an 'intrepid reporter,' which I shall wear as a badge of honor all my days."
Alabama Writers' Forum Executive Director Jeanie Thompson's relationship with Lee included encounters with her readers in this country and abroad. "Nelle Harper Lee has been a significant phenomenon in my life since 1993 when I began directing the Forum," said Thompson. "Though I never spent more than a few fleeting moments in her presence, I answered hundreds of questions from visitors and others about her life and work. When the Alabama State Council on the Arts visited Italy in 2008, I spoke about Mockingbird and used passages from the Italian version, projected on a screen, for the audience. Many of them knew the book well. Since Italy doesn't have mockingbirds (or so I was told) the title was changed to The Darkness Behind the Hedge—a reference to the reclusive Boo Radley. Although Ms. Lee had one novelistic story to tell, other stories by other writers were encouraged into being by the fact of Mockingbird's existence. Alabama's literary community is richer for that."
Monroeville native Mark Childress, received the Harper Lee Award in 2014 and, like Lee, had a bestseller, Crazy in Alabama, adapted into an award-winning feature film. Childress perhaps summed up best Nelle Harper Lee's impact on literature and our state. Writing from Vietnam, Childress said, "I am sad to hear of Miss Nelle Harper Lee's passing, but happy she got to live such a full and consequential life—even if it was quiet and private. The impact of her novels will go on and on. She was personally generous and kind to me, and to others I knew, although she preferred to keep quiet about that too. Her creations will outlive her, and to me there is no finer praise you can give an artist. In the world of Alabama letters, our mighty tree has fallen."
Photo of Harper Lee by Chip Somodevilla-Getty Images