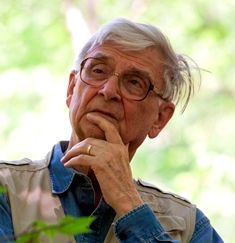 Mark your calendars for the 19th Annual The Alabama Writers Symposium in Monroeville, March 31-April 1, 2016. This year's theme is The Elephant in the Room. Nobody's talking about it, but everyone knows it's there. Are you brave enough to bring up the obvious or just Southern enough to try sweeping it under your grandmother's braided rag rug? Either way, you won't want to miss E.O. Wilson's timely observations on the environment, Kirk Curnutt's eye on Aphrodite, Kim Cross's emotional stories of loss and survival, and Greg Neri's whole new look at the childhood friendship of Monroeville's own writing titans.
Celebrated biologist Celebrated biologist E.O. Wilson is the winner of the is the winner of the Harper Lee Award for Alabama's Distinguished Writer of the Year and southern scholar Frye Gaillard will be honored as the 2016 Eugene Current-Garcia Award for Alabama's Distinguished Literary Scholar. This year will also mark the first year of the presentation of the Truman Capote Award for Distinguished Work in Literary Nonfiction or the Short Story.
The Alabama Writers Symposium is made possible through the generous support of George F. Landegger and the Alabama State Council on the Arts.
For a complete listing of 2016 authors and scholars, and for registration information, visit The Alabama Writers Symposium or contact Alisha Linam, Director of the Alabama Center for Literary Arts, at 251-575-8271.
Photo: E. O. Wilson (Beth Maynor)