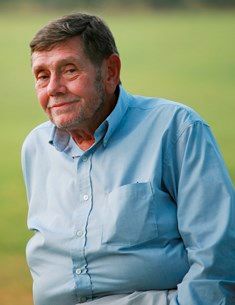 By Gregg Swem
Wade Hall, who established the Hall-Waters Award for Southern writers, had many literary interests—from Southern fiction to American history to poetry. He had been involved in poetry ever since he met a group of Kentucky poets in the 1960s when he was a young college professor. These people were committed to poetry, and through the leadership of Joy Bale Boone they began putting out a publication of poems by Kentuckians. It was titled approaches.
Wade was a contributor and an editor, but it wasn't until Mrs. Boone remarried and moved away in the 1970s that he took over the magazine and decided to rename it Kentucky Poetry Review. And it wasn't long before Wade decided to invite well-known writers to contribute to the magazine, some of whom were Kentuckians and some not: Robert Penn Warren, James Dickey—both U.S. Poet Laureates—May Sarton, Wendell Berry, Ray Bradbury (yes, the science fiction writer also wrote poetry), John Ciardi, Marion Montgomery of Georgia, Charles Semones, Sarah Litsey, Dabney Stuart of Virginia, James Laughlin of New Directions Press, Ruth Stone, James Still of Alabama and Kentucky, David Madden, and Philip Appleman.
But there were always plenty of poems in those pages—and good poems they were, too—by largely unknown but dedicated poets. Under first Joy Bale Boone's guidance and then Wade's, Kentucky Poetry Review prospered for twenty-eight years. Its last issue came out in the spring of 1992—not a bad life span for a literary magazine.
While he was editing Kentucky Poetry Review, Wade was bringing some of these same poets and other writers to Bellarmine University in Louisville, where he was on the English faculty, to speak and read to students, the Bellarmine community, and people in the Louisville area who were interested in writers and writing.
In 1973, Wade also put out a collection of his own poetry, titled The High Limb, and was planning a second collection when illness overtook him in 2012. Many poems in the first collection dealt with his Alabama heritage. He had planned on calling the second collection Conecuh Poems after the river that has its source in Union Springs in Bullock County.
So I know that Wade would be pleased and find it most fitting that distinguished poet Natasha Trethewey has been selected as this year's Hall-Waters Award recipient.
Photo: Wade Hall (Jamie Martin)